Faculty / Department / Graduate courses
Faculty of Political Science & Economics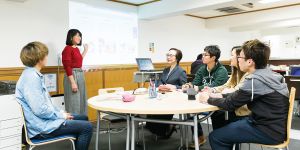 Political Science & Economics Department
In addition to 6 study fields of Political science, Economics, Law, Sociology, Business Administration, and Informatics, an Interdisciplinary area that links multiple fields is substantial. Especially, the ability to approach an area of global that demands peace and area of local that aim to revitalize local community is required. The relation between the promotion of SDGs and learning at Political Science & Economics Department is close. Thus, in the department, topics of SDGs are also touched in a class.
For more information (Japanese)
Faculty of Humanities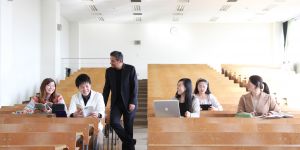 European-American Culture Department
This Department considers the "present" of the world from two aspects The first one is the learning of humanities that European-American culture has been built. The second one is fields of study that are related to globalized society like language, current culture, and so on.
A minor system is also established, that helps expand the world of learning.
For more information (Japanese)
---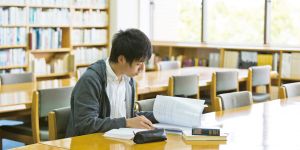 Japanese Culture Department
This department seeks the essential of Japanese culture through literature, languages, history, thought, theory of culture, comparative culture. Not only considering Japanese culture from the Japan-inside aspect, but considering the culture from outer perspectives like Asia, Europe, and America.
For more information (Japanese)
---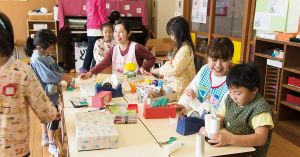 Child Studies Department
In this department, the first step in learning is to understand children's language, behavior, a mental state.
Courses for obtaining qualifications and licenses such as a childcare teacher are not only focused on preparing for examinations, but also on understanding the world of children and how adults with specialized knowledge and skills can interact with children and nurture their individuality.
The ability to communicate with children is attracting attention from society and companies.
For more information (Japanese)
Faculty of Psychology and Social Welfare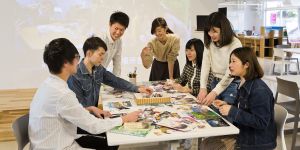 Psychology and Social Welfare Department
This department aims to develop a psychological and welfare specialist who has acquired the richness of mind that is close to others, by learning deeply about the relationship between the mind and society of people living in the current era.
The appeal of this department is that students can learn about the mental problems of modern people and the welfare issues of modern society from the two fields of psychology and social welfare.
For more information (Japanese)
Graduate courses
Seigakuin University has three graduate courses.
Graduate School of Politics & Policy Studies
We train advanced practitioners and researchers in the four fields of politics and policy, economics and management, tax law, and regional symbiosis.
For more information (Japanese)
Graduate School of Arts & Sciences
Through the four courses of American and European Culture, Japanese Culture, Christian Culture, and Cultural Foundations and Anthropology, we seek to understand the roots of culture, and to explore the "living knowledge" of today.
For more information (Japanese)
Graduate School of Psychology and Social Welfare Studies
We support the acquisition of advanced specialized knowledge and research skills for those who find challenges and seek solutions in their work and roles in supporting people, intellectually interested in and seek to understand the various problems of modern society, seek to understand the nature of human beings and their daily activities.
For more information (Japanese)